---
Self Defense Training Classes in Cincinnati, OH
Premier Shooting & Training Center is a renowned, family-owned, and operated organization that offers one of the finest indoor range facilities for self defense training in Cincinnati. With our instructors being military veterans and experienced security service personnel, we specialize in providing practical self defense classes to clients in Cincinnati in a friendly, safe, and dynamic environment. Our self defense classes are designed to develop your confidence, skill, and situational awareness — helping you defend yourself and your family from an attacker or a vulnerable situation. If you're looking to learn advanced techniques for self defense, then consider enrolling in our self defense classes in Cincinnati.
Protect Yourself by Enrolling in Self Defense Training in Cincinnati
A feeling of helplessness and the inability to defend oneself while facing an attacker can be avoided with appropriate training. Our self defense training at Premier Shooting & Training Center is focused on teaching our clients a wide variety of self defense techniques, including escaping hair and hand grabs, tackling bear hugs, escaping strangles and chokeholds, or disabling armed attackers. Our unique approach to personal safety and self defense training can be used by anyone regardless of their fitness level, age, or gender. If you frequently walk home alone at night, then it's wise to enroll yourself in self defense classes in Cincinnati.
Premier Shooting & Training Center
---
Headquarters For The Sport You're Passionate About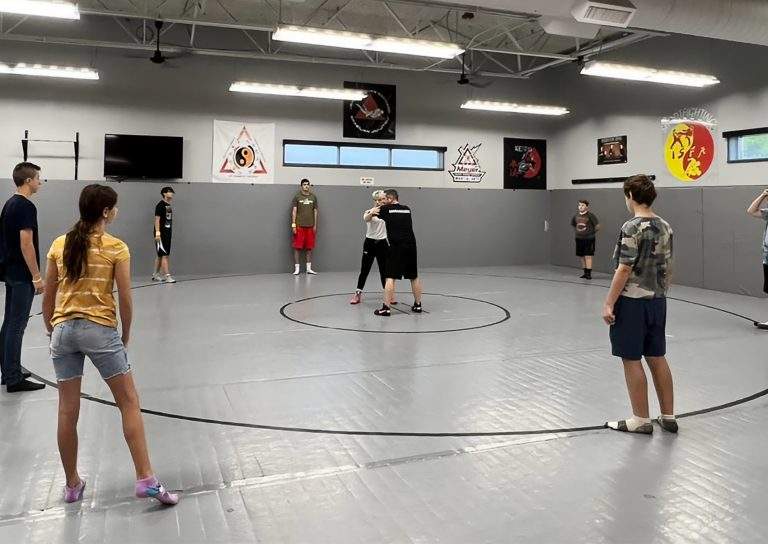 Take Self Defense Classes in Cincinnati for Developing the Right Mindset & Strength
Our well-rounded self defense training program improves your physical and mental fitness, prepares you to detect danger quickly and respond instantly, equipping you with knowledge and teaching you crucial street awareness. This ultimately allows you to deal with violent situations tactfully and practically. With our top priority being to make your senses and body stronger, more active, and responsive, our self defense training for clients in Cincinnati is designed to teach you a wide variety of training and techniques, such as hammer strikes, groin kicks, heel palm strikes, elbow strikes, etc.
Full-Service Indoor Shooting Range in Cincinnati, OH
---
Premier Shooting & Training Center is proud to be Cincinnati, OH's go-to gun range. Not only do we offer unique static and tactical ranges, but we're pleased to provide our customers with expert firearm training, self-defense classes, martial arts sessions, and so much more. We strive to offer gun enthusiasts a unique experience while staying on top of all the latest firearm aspects and information. When you choose Premier Shooting & Training Center, you'll get all the firearms training, tools, and accessories you need in Cincinnati, OH.
Other Locations for
Self Defense Training
---